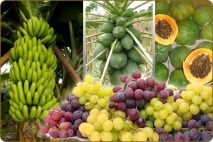 In this sector, Royal Marine Fruit, aims to improve the quantity and quality of Yemen's agricultural products by insuring selection of high quality products which adapt with international standards, and demands of markets and customers.
We are committed to fulfill all modern agricultural export provisions and demands which include good quality for the agricultural products. sorting, packaging, labeling, good storage..ext.
Our activities in this sector include:
Varied types of fruits.
Varied types of vegetables.