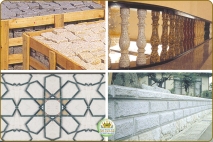 Yemen has a large set of stone and mineral treasure, according to The Yemen Geological Authority and minerals, Yemen has got more than (60) types of marble stones and granite.
In this section, Royal Marine Fruit, aims to popularize Yemen products in order to facilitate entrance of Yemen exports of marble, granite gypsum, building stones into the Arab and international markets, according to the international standsrs and fulfilling importers demands.
Our activities in this section include:
Export of marble and granite.
Export of marble stones and ornaments.
Export of gypsum.
Export of glass.
For more details, please visit Products Directory.
.